Jiuzhaigou Valley, also called Jiuzhaigou Natural Reserve or Jiuzhaigou National Park, is located in Zhangzha Town, Jiuzhaigou County, Ngawa Tibetan and Qiang Autonomous Prefecture, Sichuan Province, China. Jiuzhaigou (literally "Nine Village Valley") takes its name from the nine Tibetan fortified villages along its length. This fairyland features turquoise & emerald crystal lakes, layered waterfalls, authentic Tibetan villages and towering peaks. Travel in different season, the water in Jiuzhaigou will present various color patterns of white, blue, green, turquoise and emerald.
Stretching over 72,000 ha in the northern part of Sichuan Province, the jagged Jiuzhaigou valley reaches a height of more than 4,800 m, thus comprising a series of diverse forest ecosystems. Its superb landscapes are particularly interesting for their series of narrow conic karst land forms and spectacular waterfalls. Some 140 bird species also inhabit the valley, as well as a number of endangered plant and animal species, including the giant panda and the Sichuan takin.
History
Jiuzhaigou is a remote region in China. It was inhabited by various Tibetan and Qiang peoples for centuries. Until 1975 this inaccessible area was little known. Extensive logging took place until 1979, when the Chinese government banned such activity and made the area a national park in 1982. An Administration Bureau was established and the site officially opened to tourism in 1984; layout of facilities and regulations were completed in 1987.
The site was inscribed by UNESCO as a World Heritage Site in 1992 and a World Biosphere Reserve in 1997. The tourism area is classified as a AAAAA scenic area by the China National Tourism Administration.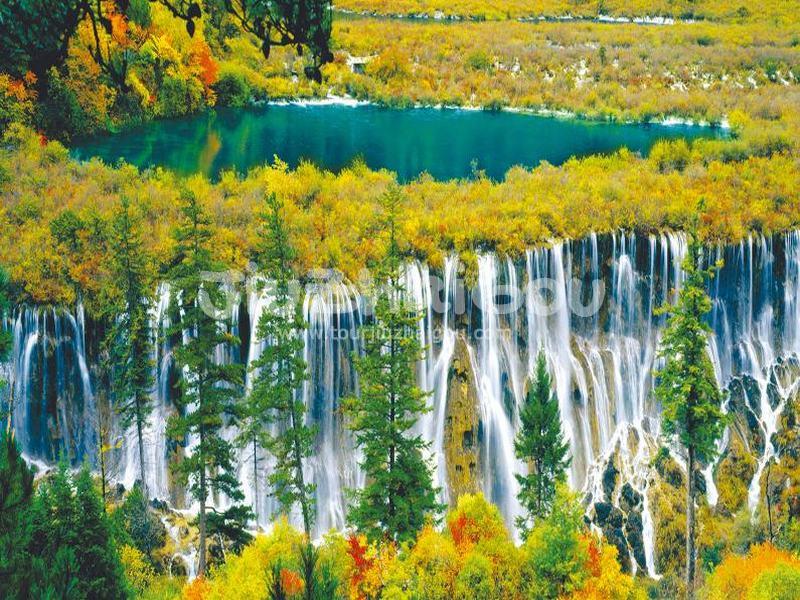 Jiuzhaigou Landscape & Geology
Being the transition zone between Tibet Plateau and Sichuan Basin, the Jiuzhaigou's landscape is made up of high-altitude karsts and carbonate rock strata, which caused by earth's crust lifting, glacial and hydrological activity. Due to the glacial effect, Jiuzhaigou has the peculiar waterscape of calcified lakes, waterfalls and travertine beach lands. Featuring in colorful lakes with high concentration of calcium carbonate, and water in Jiuzhaigou is so clear that the bottom can be seen at high depths.
Legend
According to a beautiful local legend, a very long time ago, there lived a beautiful and kind-hearted goddess in the mountain east of the Jiuzhaigou Valley and an industrious and chivalrous god in the mountain west of the Jiuzhai Valley. As time went by, they fell in love with each other. One day the god presented a big and shiny divine mirror to the goddess as a token a love. The goddess reached out to take it, she was so excited and nervous to hold fast the mirror, but there was a jealous devil from obstruction and tried to seize the magic mirror. Hence, the mirror slipped from the goddess's trembling fingers and dropped to the valleys, breaking into 108 pieces. The 108 mirror pieces turned out to be 108 winkling and glittering crystal lakes of different sizes, covering the land of Jiuzhaigou Valley.
Nine Tibetan Villages
Jiuzhaigou literally means "Nine Village Valley" and refers to the nine Baima Tibetan villages within the region. Seven of them are still populated today and the permanent population of the valley was about 1000, made up of about 130 Tibetan families.
Historical Evolution
The remote region was inhabited by various Tibetan and Qiang peoples for centuries. Until 1975 this inaccessible area was little known. Extensive logging took place until 1979, when the Chinese government banned such activity and made the area a national park in 1982. An Administration Bureau was established and the site officially opened to tourism in 1984; layout of facilities and regulations were completed in 1987.
The site was inscribed by UNESCO as a World Heritage Site in 1992 and a World Biosphere Reserve in 1997. The tourism area is classified as an AAAAA scenic area by the China National Tourism Administration, and awarded the certificate of Sustainable 21st Century Tourism in February, 2001.
The winning of the certificate of the "Green Globe 21" has proved that Jiuzhaigou is taking a strategy of sustainable development in ecological tourism. At present when resources are short, Jiuzhaigou, with its concept of green tourism and daily perfected service facilities, has become a splendid pearl of world tourism. Jiuzhaigou, the fairyland filled with poetic dreams, is the paradise of mankind endowed by nature, and our spiritual home in return to nature.
Geography and Climate
Jiuzhaigou lies at the southern end of the Minshan Mountain range, 330 km north of the provincial capital of Chengdu. It is part of the Jiuzhaigou County (formerly Nanping County) in the Aba Tibetan Qiang Autonomous Prefecture of northwestern Sichuan province, near the Gansu border.
The valley covers 720 square km, with buffer zones covering an additional 600 square km. The climate is subtropical to temperate monsoon with an annual temperature of 7.3 ℃and total annual rainfall is 761 mm but in the cloud forest it is at least 1,000 mm.
Plants
Forest coverage rate in the Jiuzhaigou is 80 to 90%. There are 38 species vine plants, including precious Chinese medicine cordyceps sinensis, snow lotus, snow tea, fritillaria, tianma and National protected plants of Sichuan Sequoia, star grass leaves, tri-tip fir, white fir, spruce hanging wheat, euptelea, lianxiang tree and so on. In addition, there are 74 kinds of national protected rare plants in this area, including national protected plant ginkgo, yew and uniflora as well as 66 kinds of secondary protection plants.
Animals
The varied habitats and wide altitudinal range make for a highly diverse and biologically important fauna. There are 170 vertebrate species, ten animals and two fish. This includes 27 state-protected rare and endangered species like the giant panda, golden monkey, gnue, white-lip deer, black-neck crane, swan, lovebirds, red-belly golden pheasant, leopards, forest musk deer, and otters.
There are 223 species of bird have been recorded in Jiuzhaigou Valley National Park. These include the lesser kestrel, Chinese grouse, Sichuan Jay, snowy creek laughing thrush, rufus-headed robin and a sub species of Tengmalm's owl.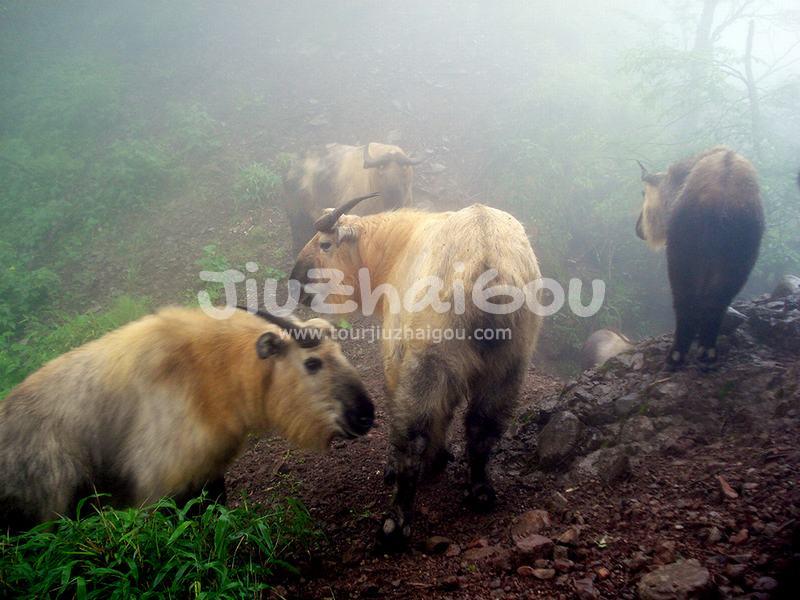 Main Attractions in Jiuzhaigou
Jiuzhaigou is arranged in the Y shape with a total length of over 50 km. By consisting of five main valleys, called Shuzheng Valley (main gully), Zechawa Valley (left gully), Rize Valley (right gully), Zharu Valley, Qu Nae Valley, and the magnificent Nuorilang Waterfall, Jiuzhaigou has over 100 lakes and waterfalls. Here are the main scenic areas with featured spots to visit:
Shuzheng Valley
The main valley of Jiuzhaigou, Shuzheng Valley is about 13.8 km extending from the mouth of the valley to the intersection of Nuorilang. Come all the way in, you'll find:
-Shuzheng Lakes: getting into the gate, you'll encounter various kinds of small streams, which are called Shuzheng Lakes. Spreading over 5 km, it consists of Sparking Lake, Shuzheng Waterfall, Tiger Lake and about 19 lakes. Go over along the way, you can enjoy the great nature with traditional Tibetan villages.
Rhinoceros Lake: as the second largest lake, Rhinoceros Lake is about 2.2 km long, and 17 meters depth, extending to 200,000 square meters. Visit in Summer, you can view it changing into different green in the different area. There is a saying about its name that a monk riding a rhinoceros was infatuated with the scenery and went to the lake with the rhinoceros. If you are lucky enough, you can see the rhinoceros in the bottom.
-Nuorilang Waterfall
Lie in the 2400 meters above sea level, Nuorilang is the junction of the Zechawa, Rize and Shuzheng valleys. As the tourist bus transfer center, it also offers Tibetan restaurants and local village hostels.
Nuorilang Waterfall, as the widest calcified waterfall in China, is about 300 meters wide and 20 meters high. This majestic waterfall can be appreciated in different distance. Tumbling down the side of the mountain in great bursts of foam, you'll feel a sense of coolness when foaming water splashed on your body; overlooked the in the opposite viewing pavilion, it like a white screen pouring down with a gurgling sound. There is no wonder why it is the symbol of Jiuzhaigou.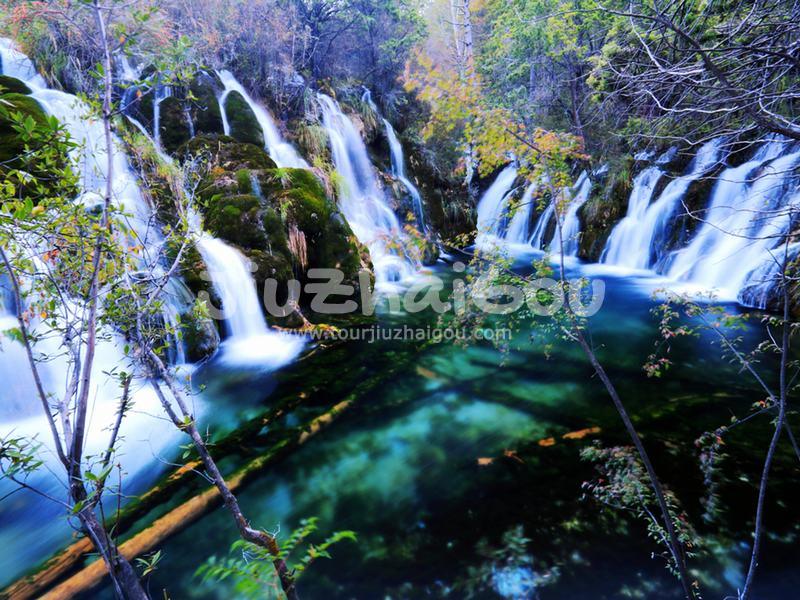 Zechawa Valley
About 18 km length, Zechawa Valley is the longest valley. As the south-eastern branch of Jiuzhaigou, it includes the highest altitude Long Lake, Five Color Pond, etc.
- Long Lake: surrounded by mountains and trees, Long Lake is the longest and widest lake, located south east of the valley. In the shape of S, the water in Long Lake is melted from snow-clad mountains and never dry up and spill over. With its amazing blue water and green color on the lake, it's the one of the ideal site to take photos.
- Five Color Pond: as the smallest lake in Jiuzhaigou, Five Color Pond riches most colors, also called Jade Lake. Due to the different mineral concentration, the water in different depths create different color spectrum from pale blue through aquamarine to emerald green.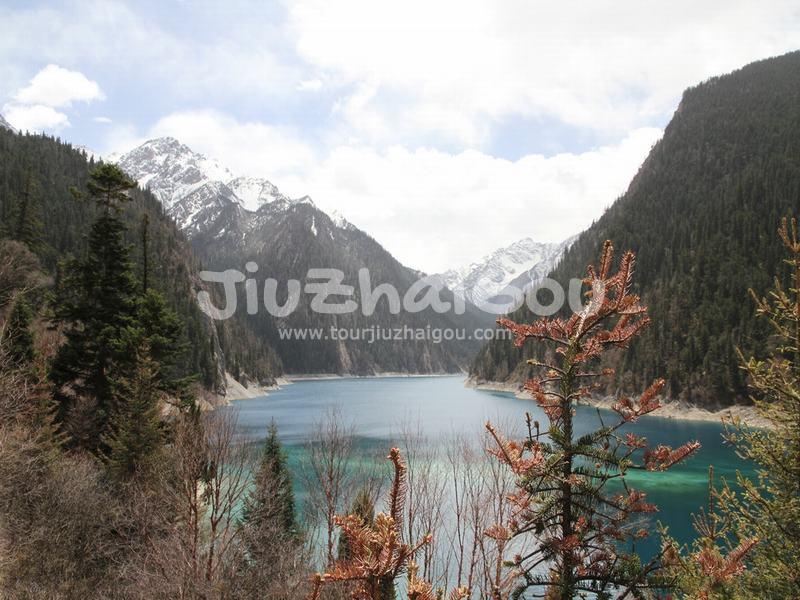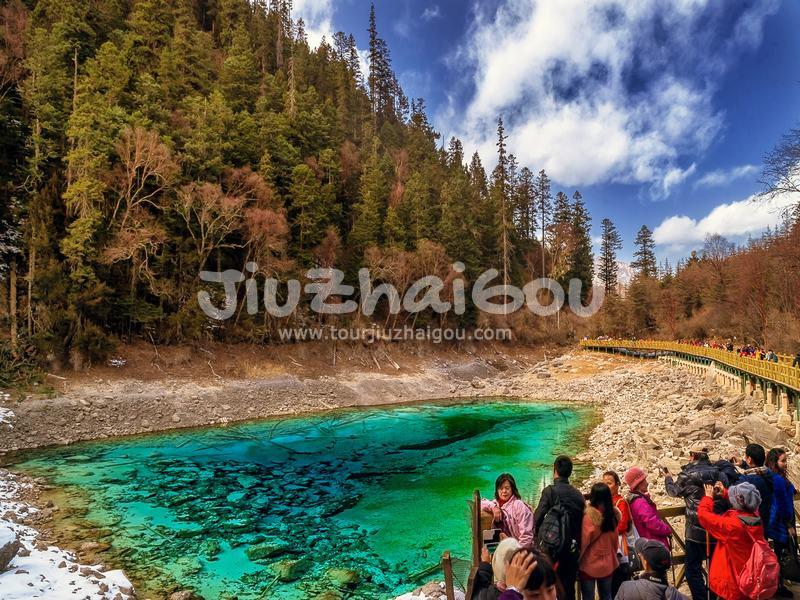 Rize Valley
Located in the south-western of Jiuzhaigou, Rize Valley branch with 18 km long is another classic visit route for its various scenic spots sites, including:
-Panda Lake: Features curious color patterns of blue and green, this lake was side the land where Giant Pandas came to drink. Surrounded by white stones with several rings of black floral forms scatter naturally underwater and beside the lake, it seems like a shape of panda. What's more, it is the only lake where have fishes on the bottom. With enough time, you can also take a look at the multi-stream and multi-level Panda Waterfalls.
-Five Flower Lake: as the essence of Jiuzhaigou, Fiver Flower Lake features different colors by the different angles of light refraction. Surrounded by yellow and green trees, this blue lake reflects more mixed colors when you view in different sides. With the clear water, you can even see old woods sink on the bottom.
-Pearl Shoal: Known for its stunning views of wide waterfall, caused by water flowing from Pearl Shoals and falling at end of the cliffs. As the name suggested, under the sunlight, the water crashing rocks like a rope of pearl. When coming to the cliff, those pearl drops converge into mighty torrent gushing down to the valley. You could see the waterfalls from different angles to capture different views.
-Mirror Lake: like a mirror, the Mirror Lake reflects the surrounding peaks, plants into its quiet lake surface and changes the inverted images more beautiful than themselves. Request highly for the weather and light, the best time to visit Mirror Lake is on sunny day before 9:00 and 17:00 before sun set.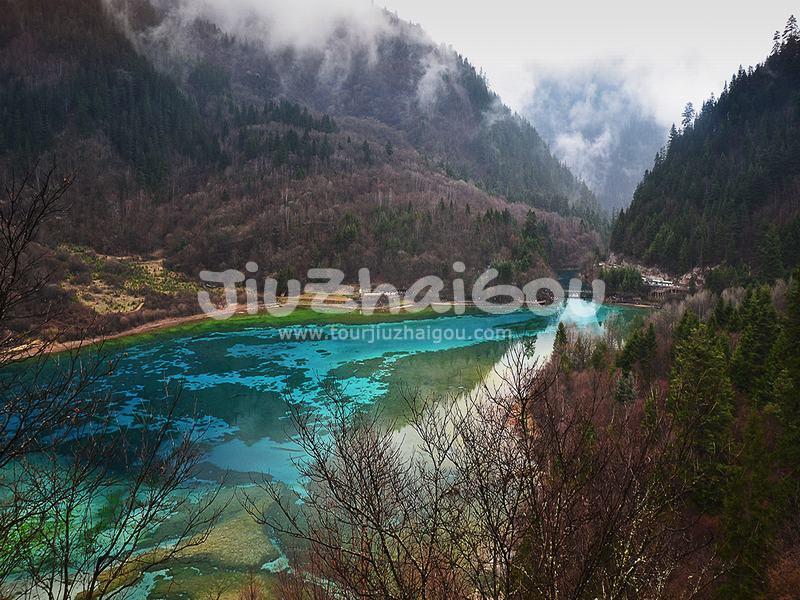 - Zharu Valley
Zharu Valley is a steep sided limestone and granite valley inside the Jiuzhai Valley National Park, which altitude ranges from 4,528m to 2,026m. There is a clear blue stream runs down its centre, with its numerous tributaries winding down through thick pine and fir forests from the surrounding mountains on both sides of the valley. One of Jiuzhai Valley's nine Tibetan villages, Re Xi, is nestled beneath the mountains only a few kilometers into the valley. A majestic Buddhist temple guards the valley entrance like a sentinel.
Zharu Valley are also home to 63 mammals, including the Sichuan golden monkey, Sichuan takin, giant panda, red panda, leopard cat, black bear, musk deer, blue sheep, wolves and the rare Duke of Bedford's vole. All of Jiuzhai Valley's bird species are present in Zharu which creates a paradise for bird-lovers. The activities that are currently available will appeal to any nature lover and include hiking and camping along interpretive trails.
- Qu Nae Valley
Qu Nae Valley is located at the South West of the national park near to the Virgin Forest. This forest hike starts at 2,960m and it is through an untouched forest that has until now not been open to tourists. There is a lot of animal and bird activity. The Sichuan Takin and Chinese Goral are two of the more common animals in this valley.
Recommended Visiting Route
With the Y shaped landscape, the Jiuzhaigou's three main valleys are distracted in three branches, centered on the intersection of Nuorilang. Nearby the gate, Shuzheng Valley is the first/last to visit. For the Zechawa Valley and Rize Valley, you need to backtrack to Nuorilang to visit one after one. According to your time, you can plan your Jiuzhaigou tour for one or two days. The more time you stay, the better you will enjoy.
If you have one day
Take tourist bus from the gate to Nuorilang to view the symbols of Jiuzhaigou. Then transfer to Zechawa Valley to visit the Long Lake, Five-Color Pond and Seasonal Lakes. Later, go to the Rize Valley to visit the Panda Lake, Five Flower Lake, Pearl Shoal and Mirror Lake. Finally, you'll transfer back to gate from Nuorilang, during the way, you can view the Shuzheng Lakes including Tiger Lake and Rhinoceros Lake. This one day Jiuzhaigou Tour is a little bit rush and you may visit a few of typical lakes.
If you have two days
Day One: in the morning, take tourist bus from gate to Nuorilang, then transfer to the Long Lake spot of Zechawa Valley to enjoy the biggest and deepest lake of Jiuzhaigou. Along the way back to Nuorilang, you can appreciate the Five-Color Pond and Seasonal Lakes. Then you may take a close look at Nuorilang Waterfall, where you have lunch. In the afternoon, take bus directly to the gate and stop at each spot of Shuzheng Valley, such as the Rhinoceros Lake, Sparking Lake, Shuzheng Lakes and so on to finish your todays' trip.
Day Two: Go straight to Rize Valley (transfer from Nuorilang) and visit the Arrow Bamboo Lake, Panda Lake, Five Flower Lake and Pearl Shoal. In the late afternoon, leaving Jiuzhaigou.
Jiuzhaigou Photography
Known for the stunning nature, Jiuzhaigou is definitely the heaven of photographer. With the eye popping waterscape of various lakes and waterfalls, the most scenic spots for photographing are Long Lake, Five-Color Pond, Mirror Lake and Five Flower Lake.
With a viewing platform close to Long Lake and a sidewalk around Five Flower Lake, it is convenient for photographers finding an advanced point. As for the Mirror Lake's surface lake scenery and the different colored Five-Color Pond attract thousands of visits to record their beauty through the lens.
Other than that, the Nuorilang Waterfall, great site to present the dynamic charm of Jiuzhaigou, is fascinating to photographers.
Best seasons to go
In Summer, the enough bright sunshine will contributed to take great photos; And Autumn is the best season to visit Jiuzhaigou, when the groves around the lakes are a depth of diverse tints and the landscape is covered with colored leaves.